Share Large Files + Resume Broken Uploads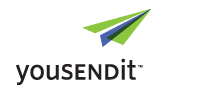 Want to share that large 80 MB file of your kids first birthday and facing the frustration of bad internet connection ? Their is good news for you. YouSendIt, the Online File Sharing company just a while ago have released a Windows Desktop Client – YouSendit Desktop.
With this client you will be able to upload and share files upto 100 MB in size. Also if you have a bad internet connection, then don't worry, your first part of the upload is not lost; YouSendIt will automatically determine the point from where it has to begin the upload 🙂 You can download the client here.