Wireless USB Devices to Reduce Clutter on your Desk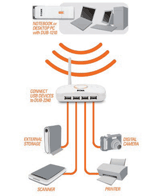 We all have dreamt of having wireless keyboard, mouse etc. Sure they exist with an additional unit that was plugged into your computer. So we can't go on having additional units for everything. We need a HUB to integrate all these devices. Thanks to Wireless innovation from D-Link.
Now we can have Wireless Networking Devices, Storage etc. Anything USB Powered that required a cable now can go wireless reducing the clutter on your desk. All you have to do is keep them within 30 feet from your working PC/Laptop and connect them to D-Link DUB-9240 Hub. So your Printer, Scanner, Storage Device are all now hooked on to the Hub and is located away from your Desk. On your Laptop/PC, plug in a small USB Thumb Sized drive which will communicate with your remote devices enabling you to work smoothly. Do let us know your feedback.