iPhone in Mumbai Grey Market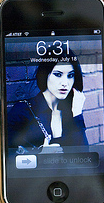 The prices of iPhone in India's Grey Market [Pallika Bazaar in Delhi and Heera Panna in Mumbai] have crashed. When launched they were quoting at a whopping Rs 50,000 for the 8GB Model. However, with the reduction of prices by Apple Inc in the US, the Grey market prices in India have also dropped.
Our sources told us that the 8GB Model in Mumbai's Heera Panna market now costs Rs 26,000 and the 4Gb model sells at Rs 23,00. [Depends on how you bargain] We recommend ordinary users not to BUY from Grey market because as and when apple releases the upgrade, the Phone stops working and you have to hack it back.
However, if you are one of those guys who don't mind spending a bit of extra time hacking, then go for it.